Case Studies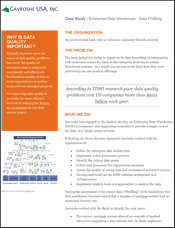 Case Study – Enterprise Data Warehouse – Data Profiling
THE ORGANIZATION
An international bank with an extensive consumer branch network.
THE PROBLEM
The bank lacked the ability to report on its data describing its relationship with customers across the bank at the enterprise level due to widely distributed systems. As a result was unclear to the bank how they were performing on core product offerings. Read more »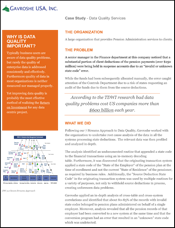 Case Study – Data Quality Services
THE ORGANIZATION
A large organization that provides Pension Administration services to clients.
THE PROBLEM
A senior manager in the Finance department at this company noticed that a substantial portion of client deductions of the pension payments (over $250 million) were being held in suspense accounts due to an "invalid or unknown state code" error.
While the funds had been subsequently allocated manually, the error caught attention of the Controls Department due to a risk of states requesting an audit of the funds due to them from the source deductions. Read more »